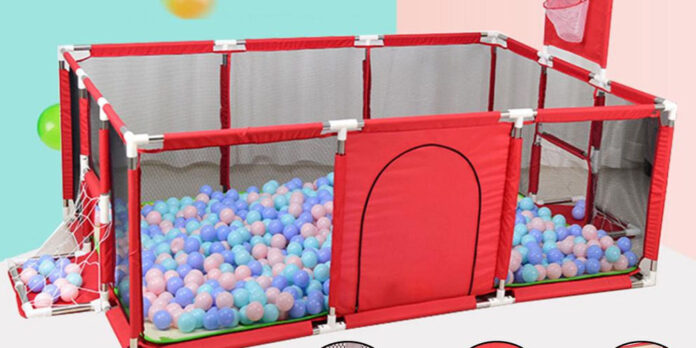 Raising babies is challenging, especially when they start moving and exploring the house. Their curiosity makes them touch everything that's within reach, and it's dangerous. At some point, all they do is play and sleep. It is necessary to figure out something fun, engaging, and safe for them to spend time in. An example is a playpen or ball pit for kids as it limits their movement but is still exciting. There are many types in the market, and finding the right one can be tasking. In this extract, we discuss ways of choosing the best kids' playpen.
Selecting the best playpen for kids
As much as playpens are fun, safety is critical. Every parent should consider their kid's safety while inside it. Don't just buy it because it's on sale on a particular shopping website. Always consider the following;
1. The shape of the kids' playpen
Playpens come in various dimensions. It gives you the option of going for a bigger size or smaller based on the number of kids or the size of your house. One with two or more children will need a larger playpen than one with one kid. They are usually square, rectangular, or oval. You can customize it to how you'd want it.
2. The playpen's height
The aim of getting the kids' playpen is to keep the baby within it. This means that the baby is always safe even when you are not around. Babies are very agile beings, and it's easy for them to go up and out of the pen. Choose a height that suits your baby's age, so they don't climb out. Pick a height based on the eldest kid if you have different-aged babies. Again, you can request customization to make it tall enough for them.
3. Material of the kids' playpen
Most people place the playpens inside the house in an individual room or living room. So when buying, they focus more on the aesthetics or how well it blends with the house. Kids' toys should be colorful and attractive; however, they are not the key elements to consider. Durability is the main reason for considering the material. Some materials are sturdy and hardly break even under forceful impact. Also, the material shouldn't be a health hazard.
4. How long do you plan to use it?
Consider the duration of use when buying it. Kids will outgrow the playpen someday, so it ends up in storage. If you want to have it for a long time, consider something durable. Also, make sure it is waterproof if you need to place it outside or use it during any season.
5. Ease of cleaning the kids' playpen
Kids need somewhere clean to play. A playpen with many hidden nooks isn't the best. Dust and bacteria fill these areas causing infections or allergic reactions to the kids. Ensure you can reach every part easily and wipe it down regularly.
Conclusion
Playpens are readily available in the kids' toy stores, supermarkets, and online. Consider the factors above before buying. Make sure it's safe in terms of height and the materials used. Ensure it's easy to clean or wash when the need arises to avoid unnecessary illnesses.