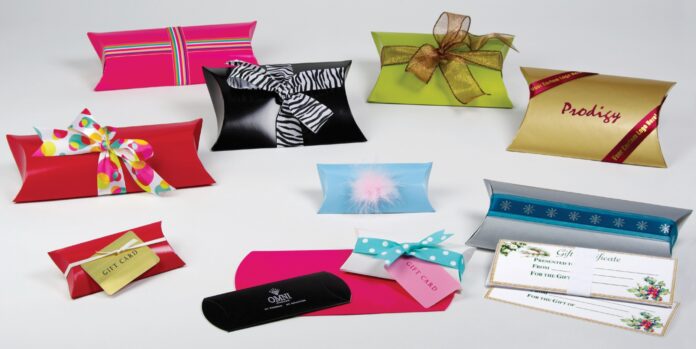 Retail businesses are now embracing custom packaging like never before. Thanks to custom pillow boxes, business products like jewelry, small attires, and other gifts can easily be packaged and presented to buyers in a way that they love. Custom pillow boxes are currently very trendy among top brands. But here's the secret: buying custom pillow boxes in bulk can be cost-saving and beneficial for manufacturers or retailers.
How to buy custom pillow boxes in bulk
The main question everybody is asking is, what's the best way to buy custom pillow boxes in bulk? You can only enjoy the maximum benefits when you know what to look for in pillow boxes. Here's how you do it.
Consider the aesthetics
Your pillow boxes are among the first things to notice about your products when clients browse your store. Good custom pillow boxes should add attractiveness and value to your products. They also help your company create a professional appearance. Therefore, when buying custom pillow boxes for your company, one of the first things you should consider is their aesthetic value. Besides being pretty, the boxes should also represent your company's values. For instance, they should come in your branding colors and brand names. Also, feature other decorative elements unique to your business; this is the trick for making the boxes unique.
Do not assume the material
The materials used to make the boxes are also something worth considering. It would be wise to base your material selection for custom pillow boxes on environmental protection. Additionally, consider the customizability of the boxes. You need boxes made from materials that promote easy printing and customization. It would also help to consider whether or not the materials allow easy surface treatment processes after printing, like hot stamping and color coating. You would also benefit from choosing durable and high-quality materials; you want your clients to be able to hold on to the boxes as souvenirs for long after the purchase. This can only happen with high-quality boxes.
Consider the design
When buying custom pillow boxes, you can either create your design to meet your products' designs or work with a company that can customize the design based on the business and your clients' needs. The goal is to ensure that the pillow boxes meet your products' size and shape demands. The last thing you want is to stuff the client or loved ones' gifts in small pillow boxes.
Check on the boxes' versatility
It would also help to choose custom pillow boxes that are versatile. You may benefit from getting boxes that you can use as gift boxes or regular product packaging. This way, even your clients can use them for different purposes. The more versatile the boxes are, the better your clients respond to them. The more your clients use the packaging for different applications, the more brand awareness you enjoy.
Conclusion
Purchasing pillow boxes from top manufacturers can also help. A good manufacturer will offer a wide range of colors, designs, and sizes. They will also manufacture pillow boxes to your specifications. Order your custom pillow boxes in bulk from our store today.